The number of newly diagnosed cases of irritable bowel syndrome (IBS) is increasing worldwide. International IBS prevalence is estimated at 11.2% with variations in geographic regions ranging from 7% to 21% [1,2].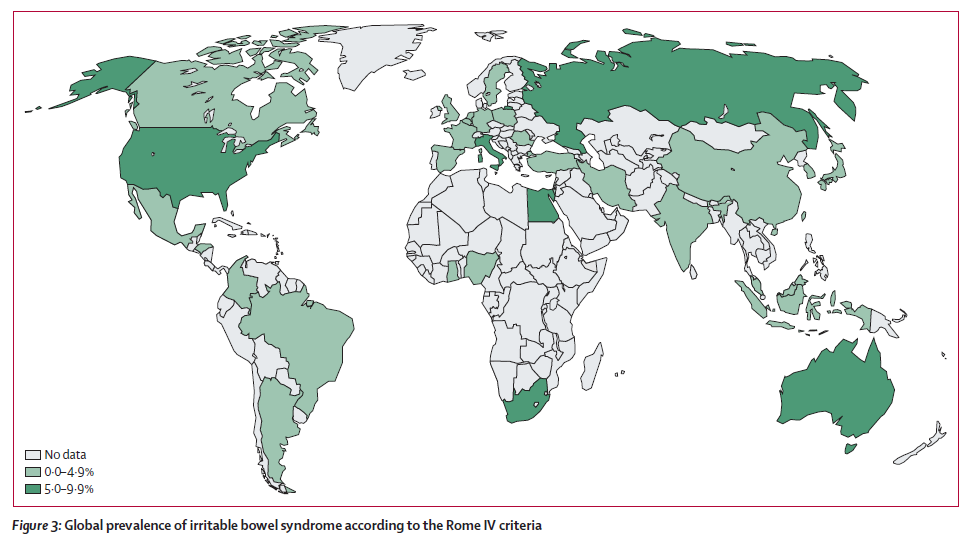 IBS is more prevalent among women with the incidence being 1.5 to 3 fold higher than in men.
Internationally 14% of women and 8.9% of men will suffer with IBS [3]. The condition appears within all age groups, including children and the elderly, although half of patients will report having suffered with symptoms before the age of 35 years [4,5]. Although IBS is thought to be a life-long condition, there is actually a 25% lower incidence in those aged over 50 [2]. It remains unclear if there is any link with socioeconomic status, but there does appear to be a familial link with a two-fold increase in risk amongst first degree relatives [6].

Various other co-existing conditions such as fibromyalgia, chronic fatigue, chronic back pain, chronic pelvic pain, chronic headache and temporomandibular joint dysfunction seem to occur twice as often in IBS patients in comparison to the general population, and can affect around 50% of IBS patients [7].

Although IBS can significantly reduce a patients' quality of life and can be associated with depression and anxiety, it is not associated with an increased risk of mortality [8].
References
Canavan C, West J, Card T. The epidemiology of irritable bowel syndrome. Clin Epidemiol. 2014;6:71-80.

Lovell RM, Ford AC. Global prevalence of and risk factors for irritable bowel syndrome: a meta-analysis. Clin Gastroenterol Hepatol. 2012;10(7):712-21 e4.

Lovell RM, Ford AC. Effect of gender on prevalence of irritable bowel syndrome in the community: systematic review and meta-analysis. Am J Gastroenterol. 2012;107(7):991-1000.

Tang YR, Yang WW, Liang ML, Xu XY, Wang MF, Lin L. Age-related symptom and life quality changes in women with irritable bowel syndrome. World J Gastroenterol. 2012;18(48):7175-83.

Rasquin A, Di Lorenzo C, Forbes D, Guiraldes E, Hyams JS, Staiano A, et al. Childhood functional gastrointestinal disorders: child/adolescent. Gastroenterology. 2006;130(5):1527-37.

Locke GR, 3rd, el al. Familial Association in Adults with Functional Gastrointestinal Disorders. Mayo Clinic Proceedings. 2000;75(9):907-12.

Whitehead WE, Palsson O, Jones KR. Systematic review of the comorbidity of irritable bowel syndrome with other disorders: What are the causes and implications? Gastroenterology. 2002;122(4):1140-56.

Chang JY, Locke GR, 3rd, McNally MA, Halder SL, Schleck CD, Zinsmeister AR, et al. Impact of functional gastrointestinal disorders on survival in the community. Am J Gastroenterol. 2010;105(4):822-32.