Schär, the global leader in gluten-free nutrition, has revamped its global brand identity in line with its new positioning to connect with consumers in a more contemporary and emotional way while improving the shopper navigation of the portfolio.
Experts Area
Are you a healthcare professional working in the area of gluten-related disorders and IBS?
For close to a century, Dr. Schär's driving focus has been to create great tasting food for people with unique nutritional needs. Over the years, the brand has been attracting more and more consumers and reaching dining tables in about 100 countries around the globe.
The brand's redesign concept has been carried out with the support of independent strategic brand design agency Bulletproof, centred on revamping its visual identity in a more emotional and contemporary way to attract the next generation of consumers without alienating its loyal base. In order to maintain Schär's iconic look and strong shelf presence, the new design is centred around the use of their easily recognizable and iconic yellow and its red logo, which is now more central and prominent. Additionally, new colour variants have been introduced to enable consumers to better distinguish each of its product categories.
In connection with the iconic yellow, the colours brown, green, and blue will also be featured to differentiate between multigrain, vital, and classic products in its bread range. Further changes to additional product ranges, including new product developments, are set to follow in the coming months as part of a rollout strategy supported executed and implemented globally by the Italian agency ArteficeGroup.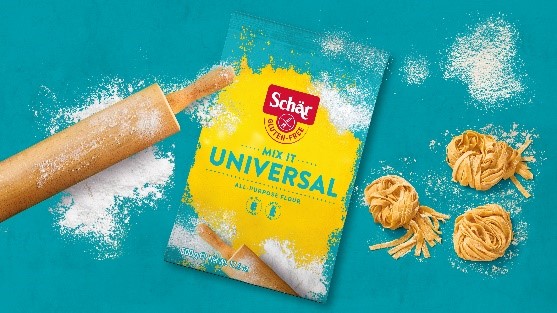 The new visual design has already been launched across the brand's digital ecosystem and, as of August, has begun to find its way into consumers' pantries across the world. The new packaging also features a QR code, which consumers can scan to learn about the company, the products or provide feedback to the customer service team.
In connection with the commitment to sustainability and to its planet, the redesigned packaging also includes additional disposal information to encourage customers to recycle appropriately. Currently, appropriately 35% of Schär packaging can be recycled. However, Dr. Schär aims to achieve 100% recyclability as part of its ongoing commitment to reducing the environmental impact of its products.