For us at Dr. Schär, it is important to constantly be on the hunt for innovations in order to develop new nutritional solutions. Our goal is to combine specific nutritional requirements with the joy of life. We recently made some steps forward in pursuing our goal. We proudly present Gutsense and SIMBIOS.
Gutsense - the portal for gut health
We want to support and accompany people with gastrointestinal complaints on their way to diagnosis so that they can lead a symptom-free life again.
Gastrointestinal complaints can have many causes, including coeliac disease. The number of undetected cases is still very high, and it can take many years on average for coeliacs to be correctly diagnosed. 
Digestive problems can also be triggered by non- coeliac gluten sensitivity, wheat allergy or irritable bowel syndrome (IBS).
A medical diagnosis is very important so that those affected can understand where the symptoms come from and can lead a symptom-free life again by changing their nutrition.
With the new internet portal for intestinal health www.gut-sense.com, we at Dr. Schär want to contribute, that those help-seekers get online reliable information by experts and support with appropriate, medically sound knowledge at every stage of their journey towards diagnosis. Opinion leaders explain knowledge about gut health simply in appealing digital content formats from a variety of specialist fields.
Expert knowledge that really helps
Info-magazine full of topics and tips for a good gut feeling
Explainer videos on gut health issues
Wiki to quickly find well-founded answers to gut health questions
Symptom test developed with Cara Care to help on the way to a diagnosis
Gutsense - a step towards medical- based awareness and simplification of everyday life for all: consumers, doctors and nutritionists.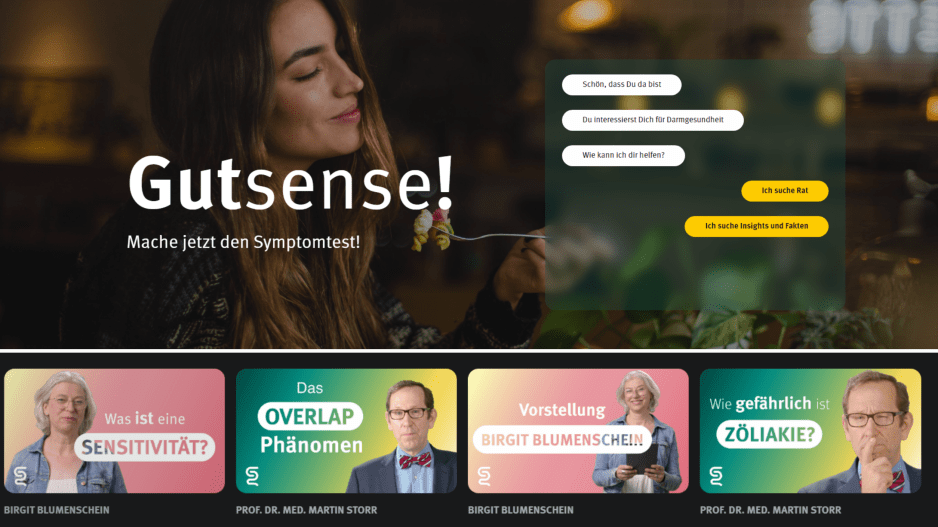 The new SIMBIOS products range
Our new product line SIMBIOS, currently available exclusively in Italy, aims to support the gut-brain wellbeing. These effects are achieved through innovative blends of specially selected ingredients. The high-quality formulas allow the best nutritional supplementation for gluten-related disorders such as celiac disease or non-celiac gluten sensitivity, gastrointestinal disorders such as irritable bowel syndrome (IBS), or inflammatory bowel disease (IBD).
The production is of the highest quality, and the special thing is that all our nutritional supplements SIMBIOS do not contain any preservatives and are gluten-free, lactose-free* and suitable for vegans.
The gut-brain axis
Based on decades of research, scientists have discovered a strong bidirectional connection between the gut and the brain. Neurons, neurotransmitters, hormones, and immune mediators modulate this connection.
This interaction is the reason why our cognitive abilities and emotions are related to the well-being of our gut. Growing evidence supports the concept of bidirectional communication between the neuroendocrine system and the gut microbiota. Dysfunction in both systems has been linked to a variety of disorders, including depression and irritable bowel syndrome.
Because of that, a holistic approach is essential to take care of our mental, intestinal and physical health.
*except for SIMBIOS Flora Power